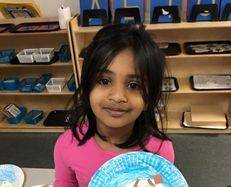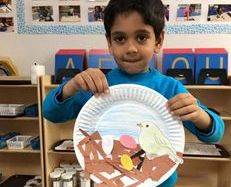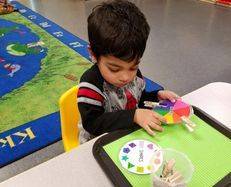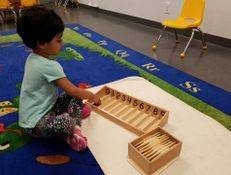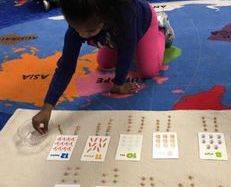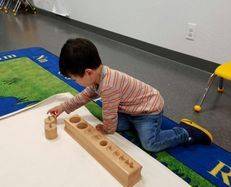 At Sparkle Montessori, the daily routine of a child revolves around the following activities
Circle time – Circle time provides the children with the opportunity to interact with each other as a group. During this time, we will work with them to learn calendar skills, weather skills, sing songs, play games, read stories and learn about each other. The teacher will prepare children for the day and review the letter, number and color of the week.
Practical life – All children are encouraged to behave independently according to their individual development level. Our staff will guide children in areas of practical life and self-help skill development by providing activities that encourage them to use undeveloped skills. The goal for children of all ages is to promote positive self-esteem and competence. Whether buttoning, pouring, folding, preparing food or cleaning a table, children experience real life situations and activities that encourage them to value their independence.
Sensory Experiences – Children will be provided with a wide variety of hands-on, concrete, real world sensory experiences appropriate for the child's age and stage of development. They will learn about all of their senses and how to use them.
Language and Math – Children will learn to recognize, identify and eventually write numbers and letters. During this time, many of our songs, crafts and games will focus on the concept of letter and numbers. Children will play word and number games, participate in poetry and public speaking.
Geography/Culture – Children will be exposed to different cultures of the world. We will help them to understand concept of where we live and work to better understand the role of cities, states, countries, continents, the world and different landforms.
Science – Children have the opportunity to plant seeds and observe the parts of a plant, ultimately helping them to develop an appreciation for nature. Zoology activities help them know and understand animals. This aims at bringing about an appreciation for all living beings.
Music and Movement – Music stimulates the child's frontal lobes, which are important to both language and motor development. Movement causes the brain to produce endorphins, chemicals that increase both the child's energy levels and ability to learn. Movement activities that include cross lateral movement are especially important for brain development. Music gives us the opportunity to make learning these skills fun for our students.
Arts and Crafts – The majority of our projects are focused around the holidays and theme units. Arts and crafts allow a child to be creative, while simultaneously promoting the development of fine and gross motor skills. Our program emphasizes the idea that it is the process, not the product that is important. We consider all of our children's work to be masterpieces!